"Jordana Sands, a well known relationship expert, has been called the psychic to the psychics. She is astounding...her compassion and insight into people is amazing. What Jordana does is better than astrology. She is right on target. She doesn't skirt the issues, and gets right to the point. Jordana actually answers the questions before they are asked.

CEOs have used Jordana's graphology services in decisions involving personnel placements. Her speaking engagements have included The United Nation's wives of the diplomat luncheons, senior centers in and around the New York area as well as appearances at numerous charitable functions, book stores, organization meetings, psychic fairs and expos.
The December issue of The Complete Woman featured Jordana along with two additional relationship experts, John Gray and Dr. Neil Clark Warren, in a article by Josie Brown entitled, "Will You Find Your Soulmate?"
When asked how she does what she does, Jordana does not refer to herself as a psychic, she calls herself an intuitive logician.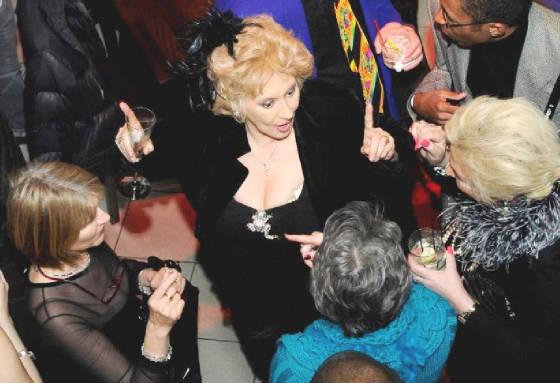 JORDANA PARTY "THE PSYCHIC AT THE PARTY" Jordana has worked numerous parties as a party guest.....charities, fundraisers, corporate parties, black tie dances, cocktail parties, etc. Jordana is the perfect guest, mingling and astounding the guests...from instantaneous insights imparted on an unsuspectiong person, to a face reading, palm reading couples reading...hilarious takes on the guests personality....to the joy of the onlookers.....little do they know she is the nights entertainment.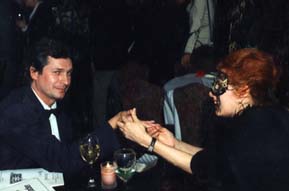 "Five minutes spent with Jordana will give you insight into your life and a better understanding of the realities and the gifts life has in store. She has an uncanny ability to know in one minute exactly what an individual needs at the moment and sets about creating in that individual a positive sense of themselves. She always says that she loves to leave them laughing, and she does just that.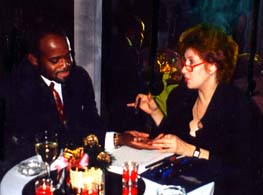 Jordana is one of the least pretentious people on earth," wrote one client. "And one of the most talented. She knows how to use her talents in ways I cannot express. Jordana has given me a sense of how to "read" people and how to read myself as well, and to enjoy doing it!" by J. Friedman (excerpt from article in Lears)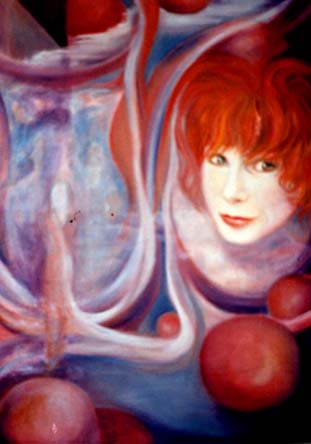 Jordana paints psychic impressionist portraits. Who else would she want to paint but the other-worldly fascinating woman, the gifted and fabulous Shirley MaCclaine. This portrait is titled "Shirley Incarnate" (click on portrait to go to Jordana online gallery)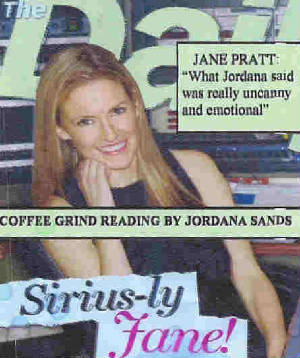 It was a delight reading the charming unpredictable and fascinating Jane Pratt.