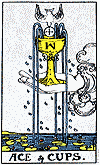 TAROT
We are all dealt our own deck of cards at birth. We may not be able to change the cards, but we can change the way we play them.
A psychic cannot change these cards nor can she take control of another's life. A psychic can shed light on your options and illuminate the path towards your hearts desire. When you make the right decisions you take better charge of your life.
A reading with a top psychic like Jordana helps you gain perspective. You will have a clearer understanding about the things you need to modify in order to achieve your goal, whether it be a personal relationship or career move. . A reading with a top psychic is fun and will leave you feeling exhilarated and filled with positive energy.
+
TASSEOGRAPHY
TEA LEAF READING
(COFFEE GRINDS ALSO)
A good tea leaf reader not only knows how to interpret the patterns and symbols that are created by the loose tea leaves in a cup but is able to use her natural clairvoyant abilities.
There are several ways to prepare the tea. This depends on the amount of people to be read. Teas leaf reading is a fun experience for a small gathering as well as a large party of people.
The patterns in some instances indicate something about to be in a persons life, or can indicate important issues or decisions that are in the person's mind. Sometimes one can see something that happened in the past, but in most instances it involves present situations or those arising in the future. Perhaps a new love.
The readings are always fun and uplifting and Jordana's readings are always surprising in their accuracy.
AURA READINGS
Our moods and feelings ...even our health can affect our auras. Readings are fascinating as they can help you have a better understanding of yourself as well as understand hoe feeling and actions can affect our over all well-being.